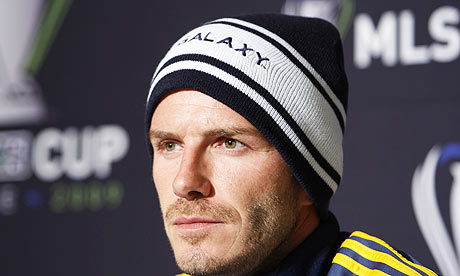 A radical fitness coach who ensured that Paolo Maldini and Alessandro Costacurta played at the highest level until they were in their 40s has claimed that David Beckham could still be playing for England at the 2014 World Cup.
AC Milan medical director Jean-Pierre Meersseman's mysterious techniques, which involves predicting injuries, allowed Maldini and Costacurta to play on to the age of 41. And he believes 34-year-old Beckham, who once again joins Milan and Meersseman late next month for a second loan spell from LA Galaxy, can follow suit if he avoids serious injury.
"Looking at his physique and the way we have corrected and elaborated on him and compared to all the data we have on a lot of players, I see no reason why he couldn't play till 40 at optimum level, absolutely," said Meersseman.
Asked whether this would include playing for England, he said: "I'm sure he could if he wanted to. The next World Cup is close, think about the next one, the one after that. The one now, next year (2010) he can play that on one leg. I'm sure, he is in excellent shape, excellent shape."
Speaking to Sky News, the enigmatic Meersseman attempted to describe the holistic approach he takes to solving injury troubles, even before they arise.
"We decided to try and figure a system where we could see if it was somehow possible to predict injury so really the system of prevention," he explained. "We started to measure everything which was measurable so we started to measure from a physical point of view how the spine functions, how the gait mechanism functions, how a number of physical functions work, also from a chemical point of view, a metabolic point of view, what they eat, what they don't eat, what they should eat, supplements, vitamins, minerals… and tried to figure out through a system of artificial intelligence what actually comes together to a leading cause of potential injury. It is a very high accuracy rate of predicting."
During his first sessions with Meersseman, Beckham's body fat percentage dropped from 13% to just 7%. Meersseman said they changed the way he was eating and training, for example strengthening his legs by making the England midfielder run in sand every day for 10 days. He also ensured that his diet included no foods with "pesticides, insecticides and stuff like that which all makes a difference".
He even claimed that fixing a hole in Beckham's tooth helped with his running and his balance. "(We look at) how teeth come together because this has a definite influence on the upper cervical dynamics, dealing with the spine and the nervous system, because our information comes from the brain all the way down," he said.
"David in my opinion can play just like Maldini because he got to 40 and decided he wants to stop and as a matter of fact Paulo could have played this year probably even better than last year because last year he played better than the year before, because if you keep the physique up to par, there is absolutely no reason, I think Paulo could have played another two or three years if he had wanted to. I really believe that David is going to go over 40 if he wants to do that. If he wants to do it, he is going to do it."
And emphasising his belief that Beckham's career could extend beyond the 2010 World Cup, to Brazil in 2014, he said: "Of course, if he doesn't have severe injuries. Of course if someone jumps into his legs and he breaks both legs it would be kind of hard to recuperate and things like that but if there is nothing, as I say, nothing very traumatic, there is absolutely no reason why he couldn't with his type of physique. With other players it is maybe a little bit different, their career may be, where they used to stop at say 30, 31, now I think they will stop at 34, 35, still a little bit later than they used to but the physique of David, I see him much more like a Costacurta and a Maldini, so he can go on."
"It would be ridiculous to make a prediction like that because there are so many factors involved but if I had to decide right now if it was possible, I would say yes. Not based on my opinion, because we all really [like] David exceptionally here and he is very, very well loved, David, but that's not the point. Based on real data, hard facts, I would say yes. I really believe so, absolutely."
http://www.guardian.co.uk/